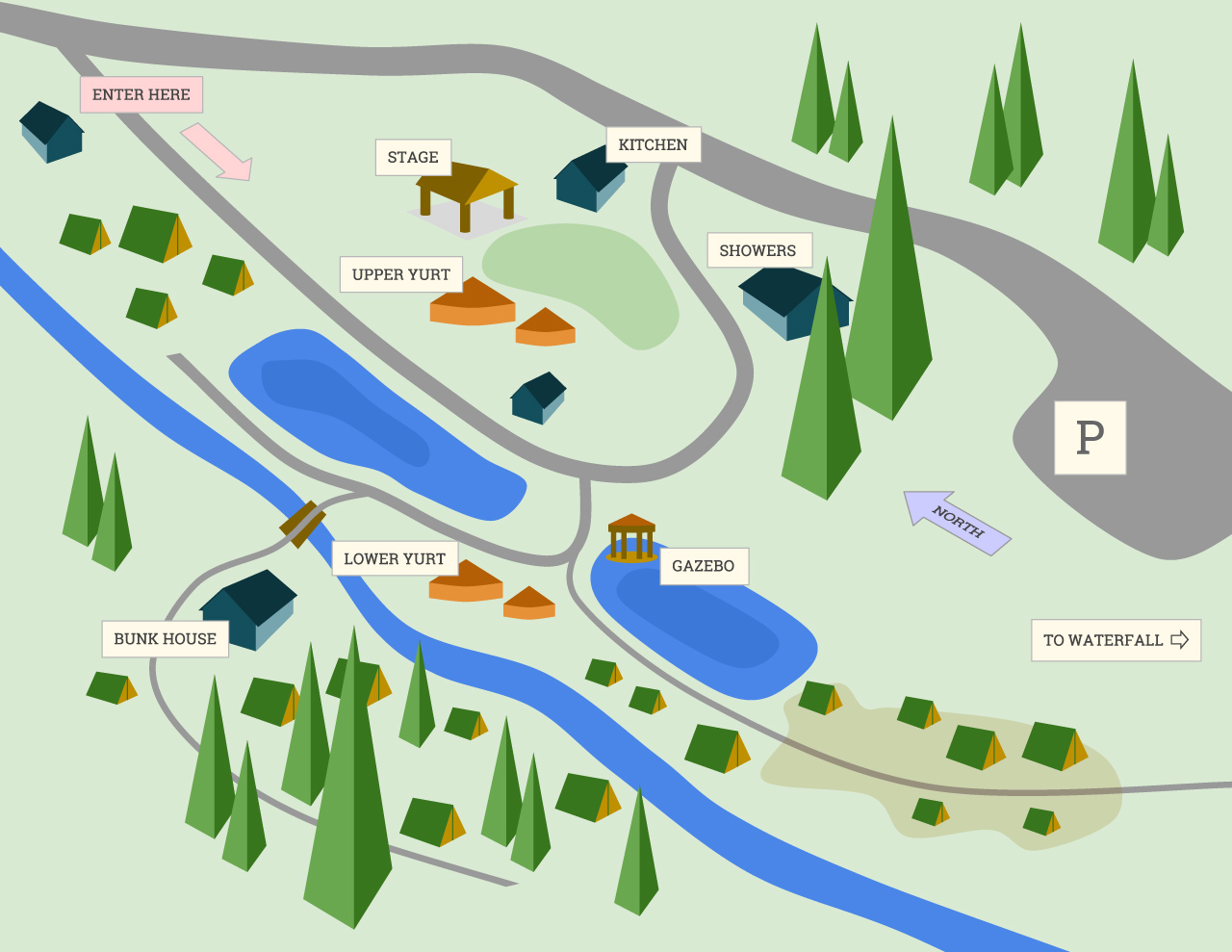 Click here to download the above map for printing.
---
Neal Creek Resort
Neal Creek Resort
44644 Camp Morrison Dr
Scio, Oregon 97374
Note: Neal Creek Resort no longer has a website.
Google Map:
https://goo.gl/maps/5ZtKDsPERPy
Neal Creek Resort has stopped hosting public events, the Google Map will show NCR as closed, you can ignore that.
Arrival
We can begin arriving at Neal Creek Resort starting Friday morning.
The Land and Environment
Neal Creek Resort is a remote and secluded, private venue located on Camp Morrison Road, near Scio, Oregon. The land is forested with dappled sunlight with lots of room to play. Camping is available throughout the property. Neal Creek, as the resort is named, runs through the property. There is also a pond!
Parking and Loading
As you approach Neal Creek Resort, you'll see some signs directing you into the site. Please turn into the smaller driveway where you will find a check-in area (RVs please proceed to the main entrance).
From check-in, proceed to your loading area and unload your vehicle. To avoid traffic jams, do not double park and please unload your vehicle and park before picking out your campsite.
Parking is limited, please try to carpool. There is plenty of parking if we park carefully.
Park your car in the parking area. The parking is just past the venue on the right side of the road.  If you have driven through the venue, you will hang a sharp right to get out of the drive and the parking area is on the right less than 1/4 mile up the road. When the parking area is full, park along the right side of the road (the same side as Neal Creek Resort). You can park anywhere along the right side all the way up to the gated road, avoid blocking the main road, the gate, or the one driveway.
Do not park on the left side of the road, do not park inside the venue, there are no exceptions.
---
What do I need for my stay?
Bring your own plates, cups, and eating utensils
Pack your trash out
The cost of camping is included in your membership.
Most people tent camp, but there is a bunk house that sleeps 10 people in the bunks, more on the floor.
Bring clothing and camping supplies for cool evenings and hot days. It can cool down to the 40s and night and up into the 90s during the day. It has been known to rain during the summer in Oregon, so be prepared for anything.
There is clean drinking water on site and there are showers.
There are no private fires but you may bring your own cook stove if needed.
Meals are provided but it is a good idea to bring your own food and in case of food allergies and particular eaters.
Grocery stores are about 30 minutes away, one way. There is no ice available on site.
There will be clean porta potties throughout the property.
There is a cool creek, a waterfall, and a large resonant culvert.
There is no ATM, mobile data, or Wi-Fi available on site so be prepared for/with CASH.
Food
There will be a vegetarian kitchen serving meals throughout the weekend. Meals are included in your membership purchase. The closest grocery store is 30 minutes away, one way. Please bring your own dishes and utensils! There will a dish washing station available for you to wash your own dishes.
---
Emergency & Local Services
Hospital:
24 hr Emergency Room
Santiam Hospital
1401 N 10th Ave, Stayton, OR 97383
http://santiamhospital.org/sp_emergency.php
Gas Station:
Texaco
1375 N 1st Ave.
Stayton, OR 97383
https://goo.gl/maps/rhWkzf9J4RC2
Groceries:
Safeway
1535 N 1st Ave.
Stayton, OR 97383
https://goo.gl/maps/w6yNmfBZPd32
Stop -N- Save Market & Deli
38777 N Main St.
Scio, OR 97374
https://goo.gl/maps/NtHBP5djwuq
Dog Kennel:
Divine Dog Boarding ​
1885 W. Washington St.
Stayton, OR 97383
(503) 769-DOGS (3647)
http://www.divinedogboarding.com/
Towing, road service, breakdowns, etc (AAA coverage):
Clevenger's Automotive
38955 OR-226
Scio, OR 97374
(503) 394-3302
https://goo.gl/maps/LFn2feNzqWF2
Santiam Towing and Recovery
611 Main Street,
Lyons, OR 97358
STAYTON….503-769-5757
LYONS………503-859-5757
https://www.strtowing.com/