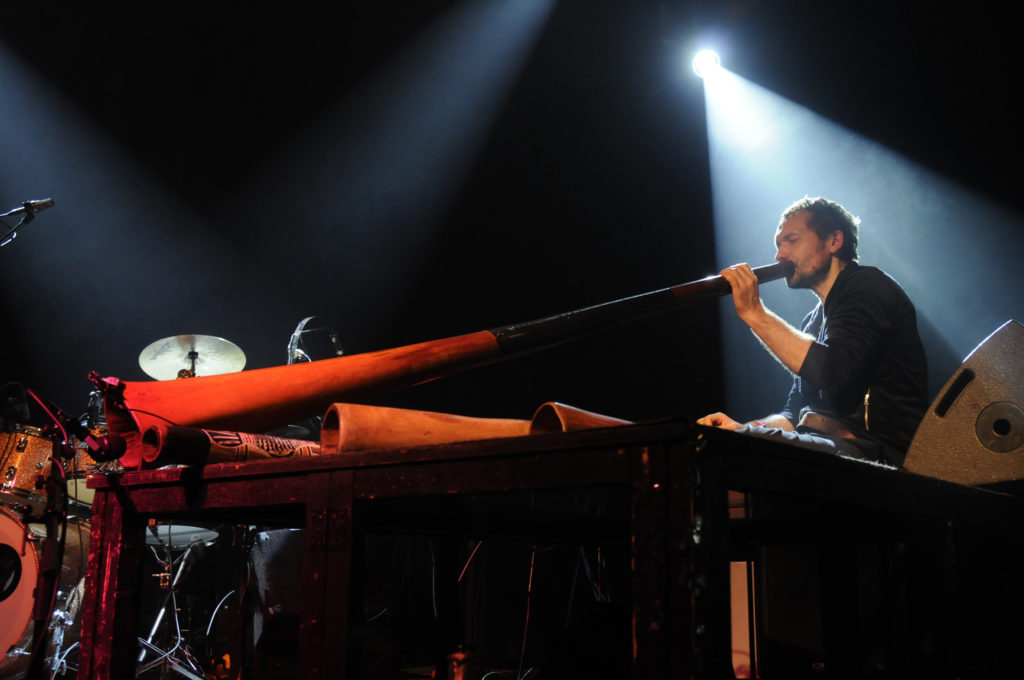 Ondrej Smeykal (1975) is a European pioneer of contemporary, technical didgeridoo playing.
For more than 20 years he has performed and recorded his music with several bands.  He has collaborated with Australian Aboriginal artists to teach and spread the techniques of didgeridoo playing.  He has a masters degree in fine art from the University of Prague and he has studied Aboriginal rock painting at the Australian National University in Canberra.  His art has been exhibited in the 2005 Nagoya World Expo.
Ondrej works internationally and is talented in multiple disciplines; he is musician, a 2-D artist, a filmmaker, and last year premiered his first didgeridoo opera piece L2 in the Czech National Theater in Ostrava. His work is experimental and community oriented. His didgeridoo teachings are focused on supporting technical vocabulary and articulation. Ondrej Lives and works in Prague, Czech Republic.
---
---
Workshops
Ondrej Smeykal is probably known for his constant innovative approach to contemporary didgeridoo playing. In this direction he is offering 3 workshops, to share almost three decades of his personal didgeridoo experience..

1. Intermediate Players:
Rhythm tools, vocal techniques, basic map for composing, practicing "frame" to be a better performer.
$50 / 3 hours
2. Total Beginners:
Circular breathing, basic orientation in creative sound sculpting, choosing right instrument…
$50 / 3 hours

3. Free workshop:
To all levels of players – Four corners of didgeridoo.
3h
Advice for all players, what is efficient to look at if you are, or want to be a didgeridoo player…
---
---