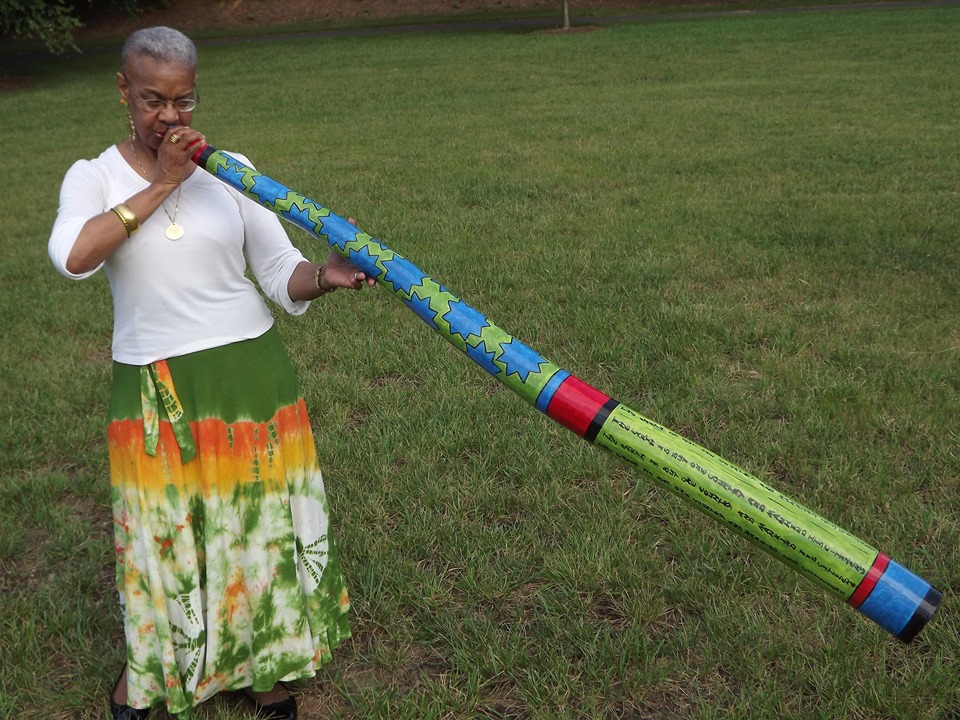 ---
---
Bio
Emma Salahuddin has worked as a public school teacher in grades K through 8, as an Offset Lithographer in Graphic Technology and a Manipulative Skills/Art instructor in the Rancho Santiago Community College District, while living in Southern California. She completely retired from a career in Education that spanned 40 years in 2010.
Retirement brought about a new chapter in Emma's life. As a fulltime caretaker for her ailing mother, she became more involved with the spiritual and healing effects of the arts. In addition to her visual artistry, singer and dancer background, she began playing the didgeridoo, an ancient wind instrument from the Indigenous Aboriginal culture of Australia. Since learning to play this instrument she has embarked upon a new profession as a didgeridoo musician, and dedicates much of her time sharing it with others through presentations, tutorials and performances.
Now residing near the Metro Atlanta, GA area, she is a member of a diverse women's West African Drum and Percussion Ensemble based in Decatur, GA known as ConunDrums. She performs with solo musicians and other music groups as a guest musician. She gave a performance for the pre-show audience warm-up on the Family Feud Game Show hosted by Steve Harvey; she performed in the production "This Mother's Daughter" with the Award-Winning, All-Sistah, Drumming, Dance and Vocal Ensemble, Giwayen Mata, and recently performed with the Atlanta Women's Chorus in their concert "Nature's Voice".
The didgeridoo has become such an intrinsic part of her life now that she is dedicated to sharing the knowledge of the instrument and the culture from which it comes with all who are willing to listen. She also sees it as a teaching tool to promote a greater peace, understanding, unity and love that should exist for all humanity world over.
---
---
Performances: